We will add to this list of Frequently Asked Questions as needed. If you do not see the answer to your question, please use our Contact form.
---
I received my merchandise, but it does not match what I ordered. Can I get a replacement?
Yes. If you received an incorrect or faulty product and you contact us within 20 days of receiving it, we can arrange a free replacement. Reply to your shop receipt or "Order Complete" email and send us a photo of the problem.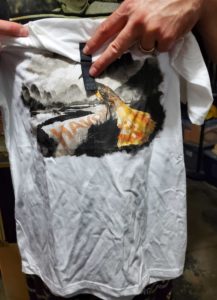 For example, if you ordered a Unisex XL shirt and received a Ladies XL shirt instead, the photo should show the tag clearly and the front of the shirt design (see example photo).
If you don't have your email receipts, use our Contact form to give as much info as you can, and we'll work with you from there.
Please note that a free replacement is not offered in the following cases:
Lost orders because of an incorrect delivery address you provided.
Products that were received as requested, but you wish to have another size/color instead.
Garments with less than 1″ size deviation from the size guide measurements.
A slight smell on the shirt. Custom printed shirts may have a faint odor. This is natural for custom-printed clothing, and the smell should disappear after the first wash.